KrowdFit is a digital wellness engagement platform that makes it possible to earn cash-back rewards when you use its app to track activities like steps, sleep and meals. The company also offers the $0-annual-fee KrowdFit Wellness Rewards Mastercard, which can help improve your financial fitness when you spend on self-care.
Cardholders can earn an impressive and uncapped 4% cash back on an expansive list of eligible "health, wellness, medical and lifestyle partners" — including Walmart and Target — in addition to 2% back on grocery purchases and 1% back everywhere else. Better yet, those rewards are issued instantly, so you won't have to wait until the end of your billing cycle to redeem them.
According to a KrowdFit representative, you'll need a FICO score above 650 to qualify for the card, which comes with a virtual card number for immediate use upon approval.
Here are five things to know about the KrowdFit credit card.
1. Earn outsized cash back on wellness purchases and more
The KrowdFit Card offers 2% cash back at grocery stores (excluding membership stores like Costco) and 1% cash back on all other purchases. While those rates are unspectacular, the card stands out thanks to the breadth of categories that qualify for its stellar 4% rate. Some of those categories include:
Food: Restaurants, specialty markets and "miscellaneous" food stores.

Fitness: Sporting goods stores, bicycle shops, membership clubs and dance studios.

Health care: Medical and dental providers, health insurance and drugstores.

Wellness: Massage parlors, spa services, and health and beauty shops.

Clothing: Family clothing stores, sports apparel and shoe stores.

Outdoor activities: Public and private golf courses, country clubs, and sporting and recreational camps.

Transportation: Including boat, motorcycle and snowmobile dealers.

Discount stores: Including Walmart, Target and others.
As of this writing, more than 30 merchant category codes (MCC) qualify for 4% cash back — a massive number for a no-annual-fee card that doesn't require active management, such as tracking a bonus calendar or opting into bonus categories.
Also, if you make a purchase that you think should qualify for bonus cash back and it doesn't, you can request to have the MCC code added to KrowdFit's list.
2. Get one year of KrowdFit Premium and extra cash giveaway entries
Like many apps, KrowdFit has two versions: a free one with advertisements, and a premium one without the ads that promises a few additional perks. Cardholders will receive a one-year complimentary membership to KrowdFit Premium, normally $1.99 per month.
To incentivize healthy living and activity, KrowdFit offers cash giveaways that are paid out Monday, Wednesday and Friday of every week, in addition to a $5,000 physical activity cash giveaway on the first day of every month. The more you use the app to track things like sleep, diet and activity, the more entries you get.
3. See your credit line and interest rate before the hard pull
When you apply for a credit card, the issuer will typically conduct a hard inquiry to determine your creditworthiness. That inquiry can often lead to a temporary decrease in your credit scores, even though it's generally conducted before you know what credit limit and interest rate you're being offered.
But the KrowdFit card lets you see whether you'll be approved — including the credit limit and interest rate — before you receive a hard pull. That way you know exactly what you're being offered and whether it's worth the impact to your credit scores. A hard pull is conducted only after you accept the offer.
Who doesn't want to be rewarded?
Create a NerdWallet account for personalized recommendations, and find the card that rewards you the most for your spending.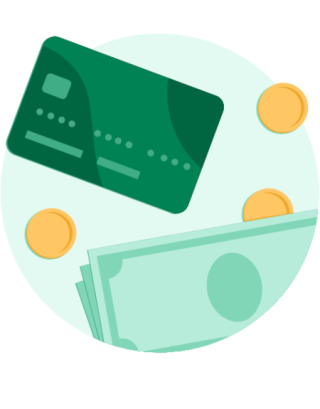 4. Receive an instant virtual card number
Once you accept the credit line and interest rate provided through the preapproval process, you'll immediately receive a virtual card number. This number gives you instant access to your credit line and can be added to your virtual wallet or used online for purchases.
Once you receive the physical card in the mail, simply replace your virtual card number with the number on the front of your card.
5. There's no sign-up bonus
The ongoing rewards structure for the KrowdFit card is solid, but the card lacks something other no-annual fee cards offer — a sign-up bonus. Whether you're looking for cash back or travel miles, a sign-up bonus is the easiest way to pile up rewards.
The Wells Fargo Autograph℠ Card card has a $0 annual fee and offers the following sign-up bonus: Earn 20,000 bonus points when you spend $1,000 in purchases in the first 3 months – that's a $200 cash redemption value. You'll also earn 3 points per $1 spent on travel, dining, gas, public transportation, streaming services and phone plans.
Or there's the Chase Freedom Flex℠, which also has a $0 annual fee and features the following sign-up bonus: Earn a $200 Bonus after you spend $500 on purchases in your first 3 months from account opening. In addition, you'll earn 5% cash back on up to $1,500 in combined purchases in bonus categories you activate each quarter; 5% back on travel purchased through the Chase Ultimate Rewards portal; and 3% back on dining and drugstore purchases. All other nonbonus-category purchases earn 1% back.
Source: nerdwallet.com