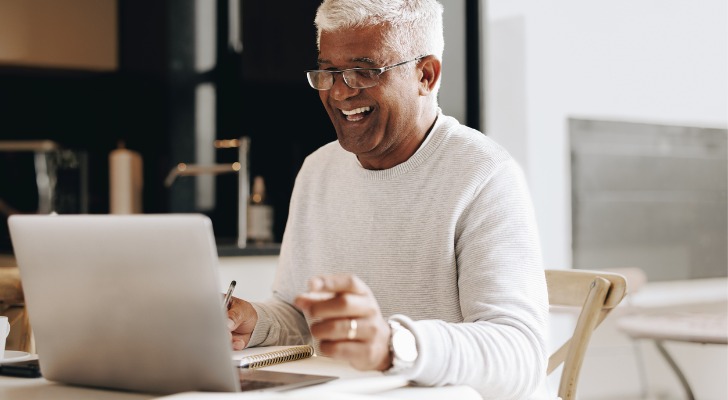 While retirement may be associated with leaving the workforce behind, most Americans plan to work past the age of 65. In fact, a 2022 study from the Transamerica Center for Retirement Studies found that around 57% of workers plan to work either full-time or part-time in retirement. Financial reasons and a desire to remain active were cited as the main motivators. Here are eight jobs that can keep you active, boost your income and let you work remotely.
If you'd like personalized help managing your finances in retirement, consider working with a financial advisor.
8 Great Work-from-Home Opportunities for Retirees
While there is a myriad of opportunities for retirees to work from home, what follows are some of best, who might be a good fit for the work and estimated pay, per salary.com as of May 1, 2023.
Bookkeeper —
Bookkeepers maintain a business's financial records, including purchases, sales, invoices, payments and other transactions. The job will require a high level of accuracy. And it will likely take some technological savvy given that many, if not most, businesses use software to manage their finances.
Best for:
Organized and detail-oriented workers with a solid grasp of basic accounting principles.
Average salary: $42,854
Telehealth Nurse —
If you have a nursing degree but hope to transition to remote work, the growing demand for telemedicine may be a great opportunity for you.
Telehealth nurses "see" patients via email, phone and chat. They also videoconference and answer their questions, determine the next medical steps, conduct follow-up appointments and deliver medical treatments.
Best for:
This is good for people who already hold a nursing degree, of course. And in a remote environment, communication skills become more important than ever for treating patients with sensitivity.
Average salary: $85,045
Administrative Assistant —
You may think of an administrative assistant as someone who mans the reception desk, makes copies and orders more coffee. But the remote role has slightly different responsibilities. You can expect to answer phone calls and emails, schedule meetings and appointments and handle many of the things that keep a remote office running smoothly.
Best for:
This is good for people with excellent customer service and time management skills. Being able to multitask is a plus.
Average salary: $45,003
Paralegal —
Paralegals serve as assistants to lawyers, helping investigate and research legal cases, maintaining records, drafting correspondence and putting together documents for trials. The job descriptions for a paralegal will vary widely depending on the law firm, what type of law is practiced, its size and the paralegal's own qualification level.
Best for:
Those who already have a certification or degree in paralegal studies—though the qualifications required to become a paralegal depend on the hiring firm and an actual degree or certification isn't always necessary.
On the other hand, if this interests you, paralegal certification programs and associate's degrees in paralegal studies can be relatively affordable and can require as few as 12-24 months of study.
Average salary: $58,630-117,990 (salary ranges widely vary)
Tutor
Tutoring is another job with a wide variety of possibilities, depending on the age and education level of the students, the subject or subjects taught and more. You can be a generalist who works with elementary school kids on any subject they need help with.
You can also be a specialist who works with college students on writing assignments, an ESL tutor who helps adults learn English, and all kinds of varieties in between. In the big picture, a tutor works with students outside of their classes to help them better understand and implement the concepts they're learning.
Best for:
People who are patient, good at breaking complex concepts into simple ideas and steps and hold the required credentials. Some tutor positions only require a GED, while others may require a college degree in the subject you intend to specialize in, such as a bachelor's degree in math for a math tutor.
Average salary: $42,422
Receptionist
A virtual receptionist serves the same role as a traditional, in-person receptionist: They ensure that all customer concerns are taken care of.
While there is some overlap with a virtual administrative assistant, a receptionist will be more focused on the customer side of the office than the administrative, answering phone calls and emails, helping customers who need assistance, scheduling appointments and more.
Best for:
This is good for those with good multitasking and people skills. And some technological savvy ensures that customers don't slip through the cracks in a remote office.
Average salary: $41,704
Customer Service Representative
In a brick-and-mortar retail shop such as a hardware store, a customer service rep may be walking the floor, answering questions about what someone should buy for their upcoming home improvement project.
In a remote business, customer service representatives serve much the same purpose: answering customer questions, helping them with problems and troubleshooting any issues.
Best for:
People with patience, great communication skills and a solid knowledge base of the products or services being sold by their employer.
Average salary: $37,623
Transcriptionist
The transcriptionist job is a straightforward one: You simply type up recordings. Some transcriptionists work exclusively in one industry. For example, they can work in legal or medical industries, which necessitates a certain level of knowledge of the terminology used in that profession. Others may do general transcription work, typing up whatever is needed.
Best for:
This is good for fast and accurate typists looking for low-intensity work. While some may find this kind of work boring, the right person may find the audio or video they transcribe interesting and value the calm.
Average salary: $41,453
Things to Consider When Looking for Remote Jobs
Don't Get Scammed
According to the Federal Trade Commission (FTC), a common scam is for a fake company to hire you. And then they send you a check to buy equipment with the caveat that you should send the extra money back. The check is bad and will be returned.
The FTC advises that you carefully review any job offers, only apply to jobs on legitimate websites and never rely on a "cleared" check your employer sends you.
Use Your Career Expertise
One of the best ways to find a new remote job is to use the skills you already have. You may be able to find a less demanding and remote version of your previous career. And going into this new job with your years of experience can be valuable to your employer. And it can potentially earn you a bigger starting salary.
For instance, if you had a career as an editor, you may be an excellent English tutor. You can help students understand the rules of grammar and how to improve their reading and writing skills.
Understand How Working Can Impact Your Social Security Benefits
Working can still be the right choice for you, but make you know how your benefits could be affected. According to the Social Security Administration, while you can work and still receive benefits, there's a limit to how much you can earn before they begin to reduce your benefits if you're not yet full retirement age.
In 2023, the limit is $21,240 for those under full retirement age. And it's $56,520 for the year that you reach full retirement age.
Bottom Line
It's common for retirees to continue working in retirement. It could be due to financial reasons or just finding ways to keep busy. However, you may not want to stay with the same career track you worked in previously. You may be looking for something less demanding, more flexible or a job you can do from home. But before you decide to work, do your due diligence in finding the right opportunities.
Retirement Tips
Consider working with a financial advisor to get the most out of all the benefits the SSA provides. Finding a qualified financial advisor doesn't have to be hard. SmartAsset's free tool matches you with up to three financial advisors who serve your area, and you can have a free introductory call with your advisor matches to decide which one you feel is right for you. If you're ready to find an advisor who can help you achieve your financial goals, get started now.
The SmartAsset Retirement Guide offers a calculator to show you how much you need to save for retirement. It also has a retirement tax friendliness calculator to help you weigh various options if you are moving after your retirement.
Photo credit: ©iStock.com/jacoblund, ©iStock.com/jacoblund, ©iStock.com/Ridofranz
Source: smartasset.com